EVINRUDE G2

*G2 Includes Premium Rigging Kit + Nautilus GPS
Installation Extra

2016 300XU 25" G2 w/ 10 Year Warranty & Normal Installation (LOW, LOW HOURS)
$18,500
2018 150XH H.O Pair 25" G2 w/ 10 Year Warranty & Normal Installation (LOW, LOW HOURS)
$25,500
2017 300XU 25" G2 w/ 10 Year Warranty
$19,195

EVINRUDE G1

*G1 Includes Analog Controls
Installation Extra

2018 200DPX 25" w/ 10 Year Warranty
$12,250
2018 175DPX 25" w/ 10 Year Warranty
$9,795
2016 115DLS 20" w/ 10 Year Warranty
$7,695
2015 75DSL 20" w/ 10 Year Warranty
$6,795
2016 40DSL 20" w/ 10 Year Warranty
$4,895

EVINRUDE Tiller

2015 25TESL 20" w/ 10 Year Warranty
$3,395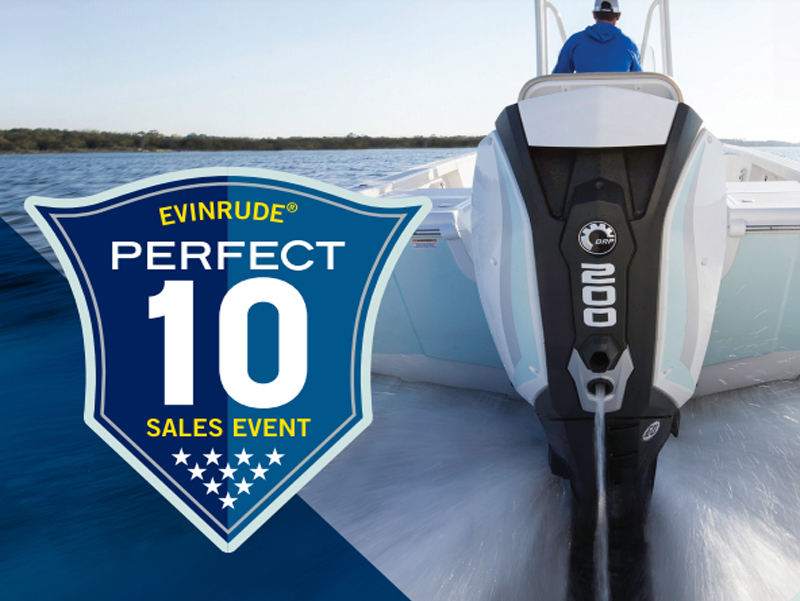 Are Four-Strokes More Efficient Than Two-Strokes?
Myth: Four-stroke outboards are more fuel-efficient than two-strokes.
You've got to burn fuel to make horsepower. Comparisons are often made between older, carbureted two-strokes and newer fuel-injected four-strokes. In those cases, the enhanced economy comes from the fuel delivery system, not from the number of revolutions in a power cycle. Compare modern two-strokes like Evinrude's E-Tec outboards to modern four-strokes, and the difference is too close to call. Check our boat test database and see for yourself.
Myth: Busted
Watch the video linked below for a detailed explanation from Karl Sandstrom, product manager for BRP's Evinrude Outboard Division, comparing two-stroke and four-stroke outboards.
THE WORLD IS OUR PLAYGROUND

Nothing is more valuable than your playtime. That is why BRP is dedicated to continually finding new and better ways to help you enjoy your favorite powersports. From snow to water to both on-and-off road fun, our passion for adventure fuels the innovations that result in the ultimate powersports experience for our customers.

CONSUMER-Approved.

Evinrude outboard engines were ranked "Highest in Customer Satisfaction with Two-Stroke Outboard Engines in the U.S." in the J.D. Power and Associates 2009 Marine Engine Competitive Information Study.SM Receiving this award shows the benefits of owning an Evinrude E-TEC outboard engine.

Bigger engines. Bigger lead.

More displacement, more torque, more top-end than anything in the V-6 class. Yes, it's the 250-hp H.O. and 300-hp. Evinrude E-TEC outboards. Featuring all kinds of powerful thinking including special high performance gearcases and advanced fuel injectors. Not just bigger, better.

More in the middle.

Our 130-hp and 115 H.O. V-4s. With a variable tuned exhaust valve to boost low-end torque and top-end speed along with a new cowling design to redirect airflow providing more power and enhanced performance. These engines pack a big punch.

SMALL ENGINES. BIGGER PERFORMANCE.

Our 13 engine options in the 25- to 30-hp range are light and tough, with plenty of electrical output and the slowest trolling speeds of any outboard in their class. Their ergonomically adjustable tiller handles give you more comfort and better handling. And their Fast Rise Inductive Ignition provides longer spark plug life and smoother running, while the mini blow-off valve will flush away most sand and other clogging debris for exceptional durability.