Trolling Motor Accessories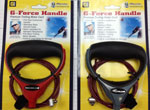 The G-Force™ Handle is a quantum leap improvement in trolling motor replacement rope technology. This trolling motor replacement release & lift system is a rugged, nylon jacketed stainless steel ......
More Details
Special
Reg:

39.95
$22.22

Makes motor removal and installation fast and simple. Universal hole patterns.Great White Mount fits: #16, New 360, #20.5, and #21 mounts. ......
More Details
Special
Reg:

84.95
$55.00